BONUS:
Want free weekly workouts and access to 500+ PDF Downloads?
New Years is often a time we associate with change.
The turning of December back into January and the rolling out of a new cycle around the sun motivates many of us to start reflecting on our lives, looking for a transformation.
Gym memberships peak in this month for that reason, as most of you are likely aware. At Superhero Jacked, we want all of us to succeed in these fitness goals.
But the start of the New Year should also be a time for looking at deeper changes to ourselves. With the end of the decade also commencing at the same time, there's no better time to seize this motivation and begin. While health is very important, being a better person is a goal we should constantly be striving to achieve. Seeing Chris Pratt shed weight and construct those sinew-y muscle fibers that we all love is an inspiring sight, but that didn't necessarily prompt much change in the man. Working to have a more balanced life is also crucial, but less aesthetically pleasing.
We often turn to our favorite nerd properties for motivation. We also tun to them as a small guide for how to handle everything life throws at us. Seeing Spider-Man picking up a literal building off him in Homecoming is inspirational in a physical sense (though none of us should try doing this for ourselves), it's also galvanizing in an emotional way. Spidey bested his fears in his lowest move to improve himself and surpass his limits. This is just one of the countless examples available to us in our universe of characters.
While we want to highlight the physical transformations of the examples below, we also want those gainz, bro! Joking aside, Superhero Jacked is built on getting in hardcore workouts. To ignore this core aspect our values would be almost hypocritical. For the New Year, here's transformations from some of our favorite characters that we want to emulate both physically and emotionally in 2020.
Gamora (Finding your family and helping them achieve their goals)
Family is an important part of our lives. Unfortunately, many of us don't always have a suitable family situation. As many works before them, the two Guardians of the Galaxy movies dealt with some of these circumstances and showed that family isn't always who you share blood with. So, whether we are close with our relatives or hanging around with our brothers from another mother, finding the people who mean the most to us is crucial to having a functioning social life.
No one from the Guardians highlights the importance of our adoptive family more than Gamora. Not only was her "father" in these films a terrible dude, he wasn't even biologically her dad. To escape this situation, she teams with Star Lord, Rocket, Drax, and Groot and realizes what a family is. She extends this family to her adoptive sister in the second film. More than anything, Gamora is the glue that holds the volatile gang together. She is a needed voice reason within the group but uses this responsibility to help everyone achieve their goals. Peter Quill uses her insistence to find his biological family, something he has searched after for years. Similarly helping the people closest to us reach their goals is something we should to achieve this upcoming year. Not only will this make you closer with your family, it will help your family feel more fulfilled.
Physically, Gamora is the most fearsome woman in the galaxy. Unfortunately, we don't have any character workouts based on Gamora or her family, but we do have plenty of celeb workout paths you can follow. You can train like Zoe Saldana, the actor playing Gamora. Or you can train like the actors who played her sister, Nebula, or her Guardian cohort Mantis.
We asked hundreds of thousands of people about "The Superhero Physique"
And then we built
The SHJ Legacy Program
to help you achieve it!
Kratos (Improve at interacting with the people we love)
Kratos has … a complicated past, to say the least. But in the latest installment of the God of War series, our protagonist tries to leave that past behind and start a new family. Us players join Kratos at one of his lowest moments: his new wife has just passed away and he has to lay her to rest. Not only does this set up a big transition in Kratos' life regardless of other circumstances, he now has to fulfill her final wish and spread her ashes in the highest point in the land. And he has to take his son along for the journey.
Kratos' journey to spread his wife's ashes isn't just a literal journey, it is a journey of discovery and learning for the God of War. With his wife assuming most of the parenting duties to this point, Kratos doesn't know how to interact with his son at all. Players experience the shift in the relationship between the father and son. With the game winning numerous awards, this change impacted us in an emotional way. These interactions between Kratos and Artreus mean something because we all have experienced a tough relationship and communication barriers with people we love. Navigating these challenges in our personal connections should be something we strive to achieve in 2020. This growth will allow us to communicate with new people we meet, and allow us to grow even closer with those who mean the most to us.
But, have you seen Kratos in this game? He is jacked! If you're looking to bulk up this year, Kratos' workout may be for you.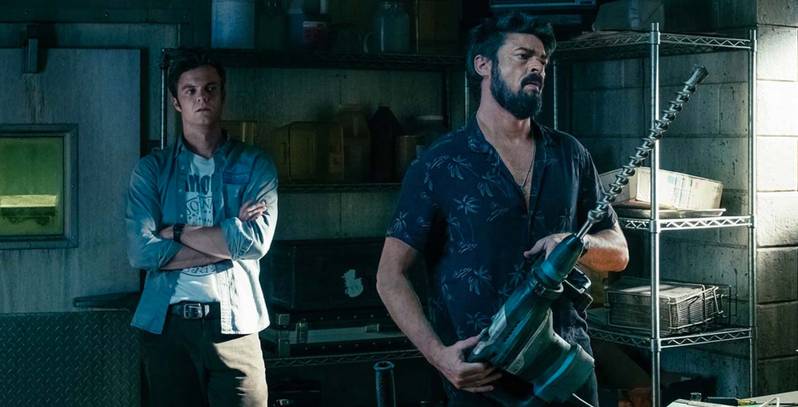 Hughie from The Boys (Improve our confidence from leaving our comfort zones and create new friends)
While Hughie from The Boys is the main character we follow throughout the first season, Billy Butcher is still showcased as the show's most famous property. (Having Karl Urban play you will also help your popularity.) Hughie isn't anything special. He's a normal dude, who just wants to listen to Billy Joel and hang out with his girlfriend. Unfortunately, a superhero ruins that by eviscerating Robin, Hughie's girlfriend. Hughie uses this scarring moment to inspire him to do the impossible: take down the superheroes.
While reluctant at first, Hughie takes to the superhero killing life relatively easily. Hughie slowly changes throughout the first season of the show. A quiet boy who kept to himself, Hughie ends up staring a superhero in the face and blackmailing him. Hughie achieves this by leaving his comfortable life behind and pursuing adventurous new challenges. While most of us can't just uproot our lives as easily as the Boys can, doing activities we are frightened of will help us grow as human beings. We can find out more about ourselves this way and create new friends we normally wouldn't have met by staying in our routines.
Hughie isn't really a physical specimen, so we should probably look to push our workouts to a more extreme level. Speaking of Karl Urban, here's a workout based on the training he put into the gym for various roles.  His character in the show, Billy Butcher, also has a workout regimen, if that's something that's more your style.
Carol Danvers (Establish our self-worth)
Captain Marvel didn't release to the fanfare a lot of Marvel movies have before. Part of that is because it was the only movie released between Infinity War and Endgame. Captain Marvel though is a fun movie that focuses a lot on finding ones' self-worth. Carol Danvers starts the movie by being intimidated and manipulated by Jude Law … I mean Yon-Rogg. We learn through flashbacks that people have doubted Carol's ability to achieve her goals for a long time. She was one of the first female Air Force pilots, proving a lot of men wrong.
The encounter that ultimately gave her superpowers was a secret mission. Carol couldn't fly openly because many people overseeing her still doubted her. By the end of the movie, Carol shows she has gotten back up every time she has fallen on the way to her goals. Her last interaction with Yon-Rogg is (spoiler) a little anti-climatic. But it shows that you only need to prove your self-worth to you, not any of the doubters. Having a sense of your self-worth is an important part of our mental health, but outside voices can cause our self-worth to falter. Ignoring the naysayers and respecting ourselves should be an important part of the year to come and every year that follows.
We remember the semi-viral sensation that occurred when Brie Larson shared how much fun she was having training for the role. Here's a workout inspired by her journey into the role. If you'd prefer to train like her fictional counterpart, here's a workout based on Captain Marvel herself.
Goku (Nothing emotional, we want his LITERAL transformations)
Not gonna lie, Goku doesn't have anything emotional to add to his transformations at all. This is purely a physical transformation post.
Goku is known for being a static character. Following his adventures as a child to him becoming a grandfather, he really doesn't change that much. He is a happy-go-lucky kid who continues to go with the flow as an adult. While this is something we should inspire to be, Goku only changes in one way: his physical ability. And by golly, does he achieve everything!
Goku has so many transformations under his belt, it's hard to keep track. Thankfully, we have a few different Goku workouts you can use to step up your fitness goals for 2020. Here's a handy video guide, a full workout routine based on the protagonist, a two-in-one Megapath, and a guide based on Saiyans themselves (the last two links being for academy members only).
---
Chat soon, 
Jake Mauff
SHJ's Newest Superhero Recruit
Last Chance:
Want free weekly workouts and access to 500+ PDF Downloads?